Virtual Conference "Academic Writing Center: Mitigating Students' Writing Challenges"
Institut Teknologi Sepuluh Nopember (ITS), Surabaya, Indonesia is inviting all students, lecturers, as well as staffs to join Virtual Conference "Academic Writing Center: Mitigating Students' Writing Challenges".
The event is supported by Regional English Language Office (RELO), U.S. Embassy, Indonesia.
The event will be held on Friday, 20th May 2022 at 08.30 AM to 03.30 PM (GMT+7).
---
University of Pécs Summer School Program
In the framework of the University of Pécs Summer School Program students from all over the world have the opportunity to participate in the face-to-face summer course about Hungarian cultural heritage free of charge!
The Cultural Heritage of Hungary (July 3-17, 2022) in-person summer program will help participants gain insight into Hungary's gastronomy, wine culture, history, religion and folk traditions, and political, economic and social challenges. Team building intercultural sessions will also be part of this program with professional lecturers and guided tours in Pécs.
The scholarship offered by the Hungarian Tempus Public Foundation for this program covers full tuition, meals, accommodation and various social activities for the duration of the program.
The program is open to undergraduate, graduate and PhD students.
Applications may be submitted in two ways:
1. As a nominee of the sending country's national scholarship organization from: Bulgaria, Croatia, Czech Republic, Egypt, Greece, Poland, Russia, Slovakia, Slovenia, Ukraine.
2. As a citizen of the following countries, individually, directly: Albania, Argentina, Austria, Belgium, Bulgaria, Canada, Chile, Croatia, Cyprus, Czech Republic, Denmark, Egypt, Estonia, Finland, France, Germany, Greece, Iceland, India, Indonesia, Ireland, Israel, Italy, Japan, Korean Republic, Latvia, Lebanon, Lithuania, Luxembourg, Malaysia, Mexico, the Netherlands, Norway, the Philippines, Poland, Portugal, Romania, Russia, Slovakia, Slovenia, Spain, Sweden, Switzerland, Singapore, Taiwan, Thailand, Turkey, UK, USA.
The language of instruction is English and students can earn 5 ECTS credits by successfully completing the course. The summer course is open to undergraduate, graduate and PhD students.
More info in the Call for application:
https://tka.hu/docs/palyazatok/call_incoming_summer_courses_2022.pdf
Application Guide:
https://tka.hu/docs/palyazatok/online_application_guide_in_2022.pdf
The application deadline for the scholarship is 10 March 2022.
The flyer for the program is attached.
Please visit https://summerschool.pte.hu/ for more information.
---
International Module – Abroad at Home 2022/1
The registrations for the International Module - Abroad at Home for Graduate Students are open.
The course is focused on the development of soft skills and there is no registration fee. As a requirement for participation, it is necessary to be a graduate student in a partner institution of Grupo Unis.
The students who achieve a minimum performance of 80% in the final exam will receive a certificate.
The registrations are available until January 28 and can be done here: http://internacional.unis.edu.br/en/2021/11/23/international-module-abroad-at-home-20221/
---
Online Winter Schools 2022 at Samara University
Samara National Research University, Russia, is organizing an Online Winter School 2022.

International School Team has a mission of intercultural exchange development, relevant knowledge and friendship.

The team offers 10 educational programs in winter 2022.
I session (17-31 January, 2022)
Space Materials and Technologies
3D Printing Technologies
Russian Language and Culture
International Law
Fashion Studies
Soft Skills
II session (1-15 February, 2022)
Sustainable Business Strategies
Startup Project Management
High Technology Management
FPGA-Based Digital Design
Upon successful completion of the online school participants get an ECTS e-certificate. Tuition fees and descriptions of online schools are available on the website.
To follow up, registration is available via the link.
---
Universitas Airlangga's Upcoming Online International Programs
Universitas Airlangga commits to organizing short exchange programs virtually in order to facilitate the students an exchange program experience amidst the ongoing pandemic COVID-19. The international programs are specifically designed for the students who are interested in exploring the subjects of Life and Social Sciences in the field of Veterinary Medicine, Biomedical Engineering, Fisheries and Marine, Communication Studies, and Tourism.
Airlangga Biomedical Engineering Short Course (ABIESCO)
Airlangga Biomedical Engineering Short Course (ABIESCO) is a short program designed to be a formation point of medical technology based on signal and image processing. Virtual company visit, traditional performance, workshops and interactive session with the experts will be presented to the participants throughout the program in order to provide the participants new insights on the combination fields of medicine, science and technology.
The Sustainable Medication Study in the Field of Veterinary Medicine only in Airlangga Veterinary Autumn Course (AVAC)
Student organization of the Faculty of Veterinary Medicine cordially invites you to join Airlangga Veterinary Autumn Course (AVAC). AVAC is a short virtual program designed to provide the participants a deeper understanding on Acupuncture as an integrative and sustainable medication in Veterinary Medicine. Some courses related to the topic such as Introduction to Acupuncture, Meridian in Traditional Veterinary Medicine, Acupuncture Point Location and Acupuncture Techniques will be comprehensively presented by the prominent speakers in their field of expertise to the program participants.
Airlangga Global Ocean (AGO)
Airlangga Global Ocean (AGO) is inviting the young generation accross the globe to engage in the issues of life underwater and saving the ocean for more sustainable and promising future for the next generation. AGO enables the participants to share their perspectives about the issues according go the 14th point of Sustainable Development Goals (SDGs), Life below Water. During the course of the program, the participants will be exposed to some main activities such as webinar and discussion on the relevant topics.
AISCOM 2021
Communication Science Student Association of Universitas Airlangga (HimakomUNAIR) proudly presents you Airlangga International Short Course on Communication Studies (AISCOMS). AISCOMS calls all of the international students across the globe who are keen to develop their communication skills in dealing with current issues in some different fields. Conducted virtually for the first time this year, the main topic presented in the AISCOMS is "COVID-racy vs Digital Media Literacy: Their Fight Toward Health and Life".
Sustainable East Java Tourism in the Dimensions Pandemic Era (NEARS!DE)
NEARS!DE is an international webinar series hosted by Hospitality Management Student Association, Faculty of Vocational Studies, Universitas Airlangga. NEARS!DE is available for international students who are eager to explore the topics of Tourism Villages, Hospitality, Sustainable Tourism, and The Role of Generation Z and Indonesian Women in Tourism Development. The webinar will invite the prominent speakers from officials to private parties running the tourism sector in East Java Province. Mark your calendar on 24 - 27 November 2021 to participate in the event!
---
ITMO University_Winter Schools 2022
ITMO University will organize online Winter Schools 2022 on January 10 — February 4, 2022. For more information, please see:
---
Study UK: Birleşik Krallık Üniversiteleri ile Çevrimiçi Tanışma fuarı
28 Birleşik Krallık üniversitesi, 'Birlleşik Krallık Üniversiteleri ile Çevrimiçi Tanışma' fuarında yerini alıyor. Katılımcı üniversiteler arasında Russel Group üniversitelerinin yarısı, Guardian'ın 'Best UK universities 2021 League Table' listesinin üçte biri, 'QS World University Ranking 2021' ve 'The Times Higher Education World University Rankings 2022' sıralamalarında ilk onda yer alan bir üniversite bulunuyor.
Fuar farklı tarihlere yayılan iki etkinlik serisine ev sahipliği yapacak.
Study UK web seminerleri: 11-15 Ekim 2021
Study UK: Birleşik Krallık Üniversiteleri ile Çevrimiçi Tanışma fuarı: 25 Ekim-3 Kasım 2021
Etkinlik tüm lisans (BA), yüksek lisans (MA) veya lisansüstü eğitim almak isteyen öğrencilere, velilere ve danışmanlara açıktır.
---
"User Experience and Design Thinking" Master - first edition - by Palermo University
The master represents a novelty on the Italian scene, it aims to bring in Sicily, Italian and international experts and teachers to train new talents in the field of design as future UX designers, Strategists, Innovation specialists, Product and User Interface, professional figures with great analytical skills, able to design in multidisciplinary and complex environments.

Registration Deadline: November 12, 2021 Enrollment cost: 5000 euro Course start date: February 1, 2022 Course duration: 9 months, 60 CFU
For more information, please click!
---
Autumn International Online School of Samara University
The university provides an intensive academic courses with bright cultural and social programs. Participants will be engaged in online classes, seminars and workshops. E-visits to laboratories and museums are on the way! In addition to core courses, students will have an exceptional opportunity to discover Russian traditions and daily life via live virtual excursions as a part of cultural program.
The final assessment is a group/individual project. It will be developed by participants during the program and presented on the final study day. Upon successful completion of the online school participants get a 3 ECTS e-certificate (Russian Language and Culture School) and a 2 ECTS e - certificate (Fashion Studies School).
To follow up, registration is available via the link.
---
Meet Universitas Indonesia at Asian University Alliance Online Education Fair
Prospective exchange students and prospective postgraduate students can meet UI representatives to discuss study prospects, campus life, living in Indonesia and more in person.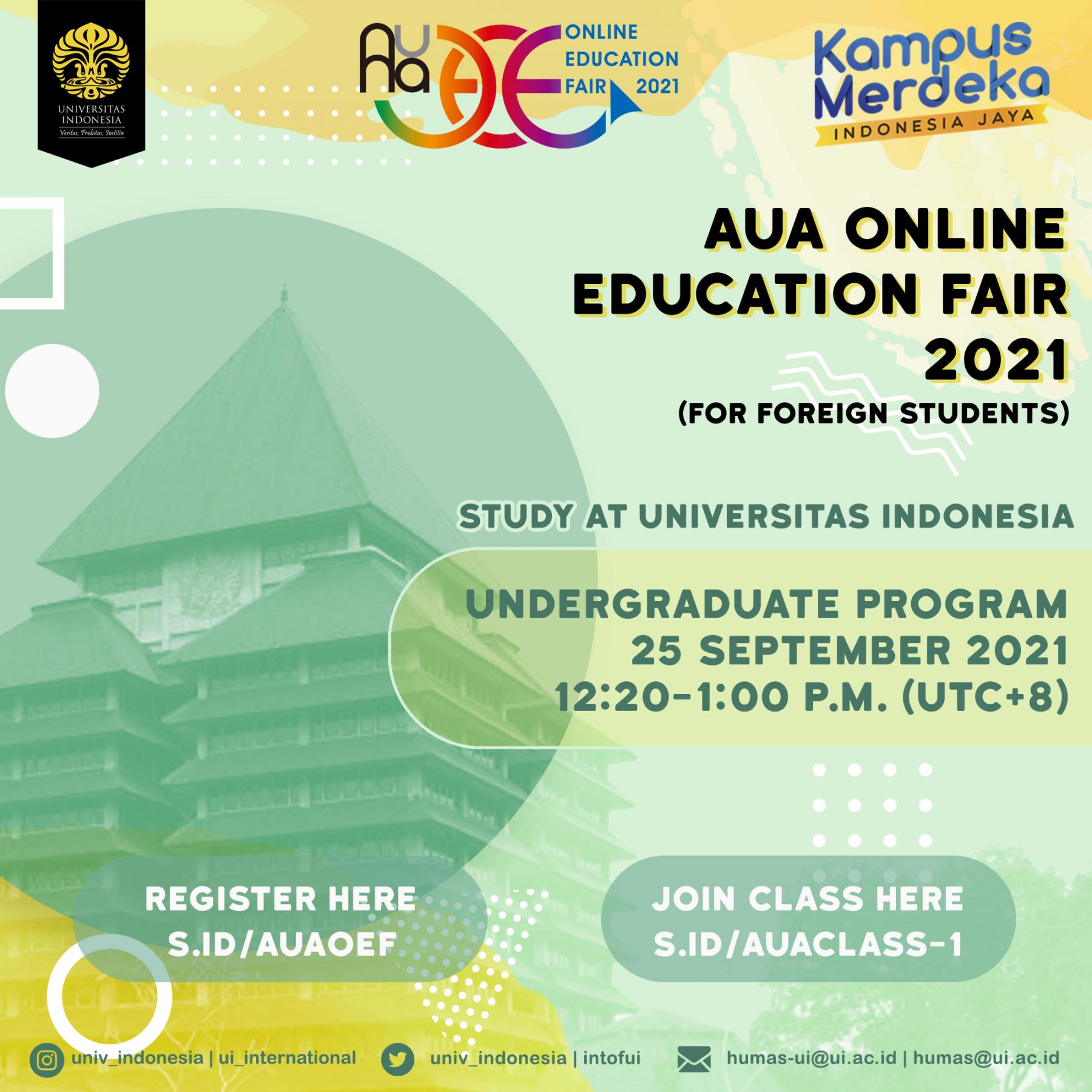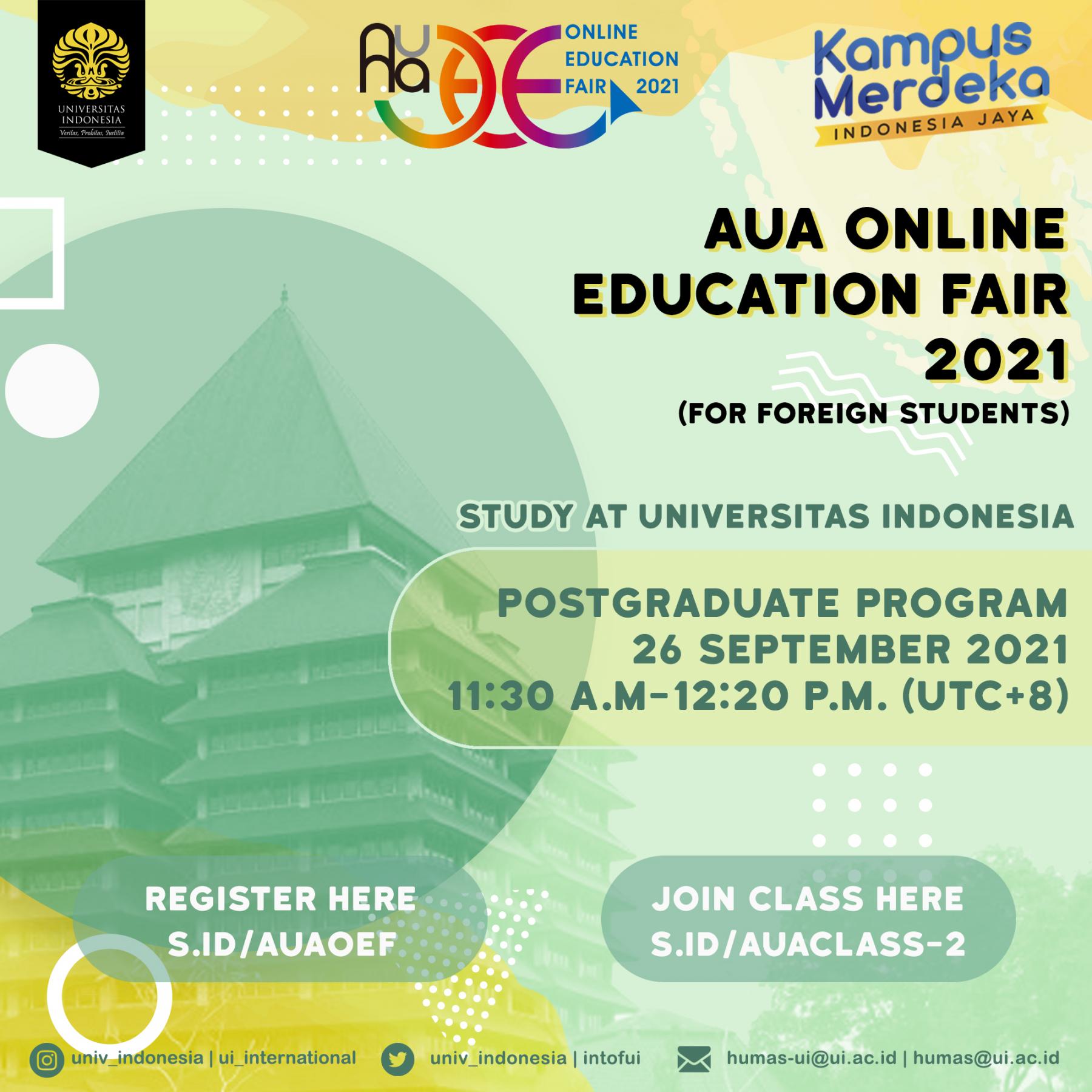 ---
Postgraduate Certificate Program "Roads to Democracies - Digital" by University of Siegen, Germany
This online-based postgraduate certificate program is catered to an international audience of students and working professionals striving to improve their academic skills by attaining specialized knowledge and professional competencies that will enrich their practical fieldwork. It is specifically tailored towards students who are seeking a flexible e-learning setting that will complement their individual circumstances, like working or taking care of a family.
Admission Requirements and Application
The online postgraduate certificate program "Roads to Democracies – Digital" is open in the academic year 2021/22. It is comprised of three different certificates, each of them offering two classes. These certificates can be taken at the same time, making the study full-time, or the certificates may be conducted independently, making it a part-time study program. The teaching language is English, and as a result, students must prove their English proficiency. IELTS, TOEFL and Cambridge certificates are accepted, so long as it is not older than three years.
Find out more on the admission and application here.
---
European Studies Online Study Abroad Program

for Fall 2021
University of Pécs, Hungary is launching a European Studies online study abroad program for Fall 2021. Students can choose to take 3 very interactive and interesting, interdisciplinary courses and thus can broaden their horizons about European culture, history, economics, politics and communication and will learn about their own cultural identity as well in a truly international learning environment, from internationally renowned professors of the University of Pécs. By completing these courses, students will possess valuable global skills and competencies, gain new knowledge, skills and will be able to exchange ideas.
Earned credits: 8 ECTS/course (24 ECTS in total) Students are asked to take all the 3 courses.
Language of instruction: English
Eligibility: the program is open to BA/BSc students with any major, minimum B2 English language knowledge is required.
Class schedule: Tuesday-Thursday, between 8:00-9:30 a.m. CET
Program period: September 6 – December 10 (14 weeks)
Program fee: 850 EUR in total
Deadline of application: August 10
How to apply: students should fill in the online application form to be found here: ONLINE APPLICATION FORM
For more information, please visit: https://international.pte.hu/mobility-programs/study-abroad/online-study-abroad-program
---
Academic Writing Course
The International Relations Department of Unis Group is organizing a global class focused on academic writing.
"Improving your Writing Skills and prepare for college-level writing and research can be difficult without the proper guidance.
On these webinars, you will be exposed to some of the most popular topics in the area taught by experts in this field."
The event will take place on March 30 and 31, at 12 p.m. Brazilian time (convert to your timezone). Free registrations can be made through the link.
---
Energy Master's Programs at the EUREF-Campus of the Technische Universitaet Berlin
Would you like to study the change? Now it is more essential than ever to rethink current strategies in energy related fields.
Become the next leader in the area of energy law, energy management, housing or mobility.
Get the essential skills in the 4 MBA/MBL programs towards more sustainability and expertise at the TU Berlin in Germany's vibrant capital, Berlin.
- European and International Energy Law (Master of Business Law (MBL))
- Energy Management (Master of Business Administration (MBA))
- Building Sustainability – Management Methods for Energy Efficiency (Master of Business Administration (MBA))
- Sustainable Mobility Management (Master of Business Administration (MBA))
Visit the website for more information: https://master-in-energy.com/
Applications are due by April 30th, 2021: https://application.master-in-energy.com/
---
Researcher and Research Student Enrichment Program (R2SEP) by Institut Teknologi Sepuluh Nopember (ITS Surabaya)
The 2021 R2SEP offers four (4) streams for participants to explore best research practice in Hard Engineering, Soft Engineering, Sciences, and Architecture, Design, & Social Sciences. Also, there will be eight (8) topics for each stream to dig your understanding on research:
Expectations From Being a Postgraduate Student
Finding Research Idea
Literature Review: Latest Tools and Methods
Common Research Methodology in Your Field
Research Management Skills
Getting Published
Presentation Skills
Life Strategy as a Researcher
The program is run every Thursday afternoon/evening (GMT+7) fortnightly for each stream.
You can register through http://bit.ly/Registration_R2SEP2021.
The registration is open every Friday to Wednesday. Participants can also do a one-time registration in which they can select individual events they are interested in. Zoom link will be sent to the registrants prior to the event.
---
Guest Lecture Series on Sustainable Development Goals by Institut Teknologi Sepuluh Nopember (ITS), Indonesia
ITS invites students and global audience to enjoy 40 selected lectures on GLS SDGs for Spring 2021 (March-June 2021). Each meeting will be conducted every Tuesday and Wednesday that consists of a 100-minute public lecture and Q&A session
GLS SDGs is free of charge and the registration will be opened every Thursday and will be closed every Monday prior to the individual event.
Participants can also do a one-time registration in which they can select individual events they are interested in. Zoom link will be sent to the registrants prior to the event.
A certificate of participation will also be provided to international students who have attended at least 8 meetings (from the total meetings).
Participants who would have attended at least 10 meetings of GLS SDGs will be eligible to enter an international competition on SDGs (to be announced) to win a short program scholarship at ITS.
For detailed information, please click!
---
Virtual Open Week by Southern Federal University, Russia
Have your eye on Russia as your study destination? Well, great news!
Southern Federal University has featured in the top 20 Russian universities. Join its Virtual Open Week on February 26-28 to get the latest on the programs, admissions and more – all from the comfort of your home.
Register now to grab your spot: https://virtualopenweek.sfedu.ru/en/landing
The recommended browser is Chrome.
---
Online Course on Qualitative Research and Data Analysis
Universitas Indonesia, Faculty of Psychology, Doctoral Study Program opens a course on Qualitative Research and Data Analysis (3 credits) which can be transferred for international doctoral students enrolled in other universities.
The lecture will be delivered online in English, and will cover some core topics such as qualitative research paradigms and characteristics, how to ensure the credibility of qualitative research, qualitative research designs, data collection methods, as well as data analysis, report writing and how to publish qualitative research.
A synchronous meeting will be held on Wednesday, pk. 9-11.30 (Jakarta time), with the first lecture on Wednesday, 24 February 2021. The course will be delivered through lecture and discussion (15%), reading assignment and presentation (15%); assignment to write small research proposal (15%) and to conduct data collection (15%); as well as to write paper intended to reputable international journal (25%) and to submit the paper to the intended journal (15%).
The lecturer of this course is Dr. Elizabeth Kristi Poerwandari, who focuses on qualitative research, mental health issues, psychology of gender, issues of violence and feminism. Kristi is the editor of the book 'Indonesian Women in a Changing Society' (Ewha Womans University, 2005), and writes books and articles on qualitative research, gender-based violence and the psychology of women and gender.
For program poster, please click.
---
Online Spring University 2021 Titled "The Future of Europe? From Lockdown to Recovery."
Online Spring University 2021 with the title "The Future of Europe? From Lockdown to Recovery." will take place at the Institute of International Studies, Charles University Prague, Czech Republic. This online course will be launched from April 12 to April 16, 2021.
This study programme is internationally acknowledged. Successful participants will be given 2 or 4 ECTS credits, depending on their work extent. For detailed information, please click, or visit https://spring-university.fsv.cuni.cz/ or Facebook page Spring and Summer Universities Prague.
The application deadline is March 31, 2021. Earlier applications have better chances of admission.
---
Free-online International Student Sonference "Future creators"
SMK University of Applied Social Sciences is organizing free-online international student conference "Future creators" on 19th of May 2021.

Aim of the conference – to present and discuss the potential ideas for future products or processes invented by young creators relevant to any field of society life. Bachelor and Master students from various study and science fields are welcome to share the outcomes of applied research as well as ideas and visions for the development of future creative solutions relevant to the modern world. Applied research can be implemented individually or in a team under the supervision of the teaching staff or representatives of other organisations.

Topics of the conference:
• digital media, communication and new media;
• health technology, healthcare management and quality of life;
• cultural economy, creative and entertainment industries, and tourism;
• sustainable development and technology;
• knowledge management and management technologies;
• other similar fields.

Conference abstracts, which will comply with the requirements, will be published in conference proceedings.
Requirements for the abstracts:
The text of the abstract is limited to 500 words. The abstracts must be prepared in English. More information: https://www.smk.lt/en/news/invitation-to-international-student-conference-future-creators-/104
Requirements for the oral presentations at the conference:
The duration of the presentation should not exceed 10 minutes. The languages of the Conference are English and Lithuanian.

DEADLINES:
Registration for the conference - 15 March 2021 https://forms.gle/V7rxjb2nczzApzf48
Submission of the written abstracts - 19 April 2021.
---
IES ONLINE SUMMER SCHOOL I and II 2021
The programs will cover topics of European history, politics, economy, human rights issues and current challenges to the EU, and offer a virtual community with insights into the picturesque town of Tübingen, study life at the University and fun intercultural exchange possibilities with new international friends.
Online Summer School I - IES University of Tübingen
June 7 - July 2, 2021
- Application Deadline March 31, 2021 -
- Tuition Fee 100 € -
Online Summer School II - IES University of Tübingen
In cooperation with Oregon State University (OSU)
July 12 - August 20, 2021
- Application Deadline April 26, 2021 -
- Tuition Fee 175 € -
For further information, please visit www.uni-tuebingen.de/european-studies
---
VIRTUAL MALAY LANGUAGE AND CULTURAL PROGRAMME II
The virtual mobility program will be held on 26 February 2021 (Friday) by Universiti Putra Malaysia and is available to the students without any charges. Participants will be given an e-certificate upon completing the program. The details on the program can be found below and for promotional poster, please click.
PROGRAM NAME : Virtual Malay Language and Cultural Programme II
MEDIUM : Teleconference (Zoom)
FEES : Free of Charge
AVAILABLE SLOTS : 100 Slots
REGISTRATION DEADLINE : 20 February 2021